Find cheap car insurance in 8 easy steps
Everybody wants cheap car insurance, but how do you actually find it?
Compare car insurance quotes from multiple companies to find the best coverage and price. Focusing solely on the lowest insurance rates is a mistake if you go without the coverage you need, so you should understand how to compare car insurance before making a decision. The whole point of insurance is to stand between you and financial disaster.
However, with a little research, you should be able to find cheaper auto insurance without sacrificing important coverage.
Comparison shop
Sometimes, you'll get the best deal with your current car insurance company. But in many other cases, the road to the cheapest car insurance policy will take you elsewhere.
In general, the more you pay for car insurance, the bigger the difference between insurance companies' rates. Every company calculates its own price, and they often differ by hundreds or even thousands of dollars.
Comparison shopping can help you uncover cheap car insurance companies and auto insurance discounts. How often should you compare car insurance quotes to find the lowest premiums?
Experts generally suggest looking around at least once a year, but certainly at these times, when your rates are most likely to change dramatically:
Purchasing a new or different car
Combining cars on a multi-car insurance policy
Adding or removing a driver
Marriage
Divorce
Moving
Adding a teen driver
Home purchase
DUI or major violation – review DUI insurance
Accident
Change in credit score
Bundle your policies
You already get cheaper rates if you are married or a homeowner because married people and homeowners tend to file fewer claims. But you can save even more by purchasing your home insurance and auto insurance policies from the same provider.
According to data gathered for Insurance.com by Quadrant Information Services, the nationwide average car insurance discount given for bundling home and auto insurance is 8 percent.
By bundling renters and car insurance a discount also applies, with the nationwide average being around 5 percent. The nationwide average homeowner's insurance discount given for bundling is 20 percent.
If you insure more than one car on your policy, you get a multi-car discount. Expect 10 to 25 percent savings off your collision, comprehensive and liability premiums.
Raise your deductible
Simply raising your deductible from $250 to $500 can lower the collision or comprehensive portion of your premium by about 20 percent, according to the Insurance Information Institute.
Remember, though, that a higher deductible means more money out of your pocket in the event of a claim. Cheap insurance can become expensive fast if you have to pay your deductible with a high-interest credit card.
Get all discounts for which you qualify
Is your daughter a straight-A student? You may qualify for cheaper car insurance by obtaining a good student discount.
Does your car have anti-theft deterrents? Your insurer may give you a price break because the car is less vulnerable to theft.
Understand all the car insurance discounts you may qualify, so that you can get the cheapest insurance.
---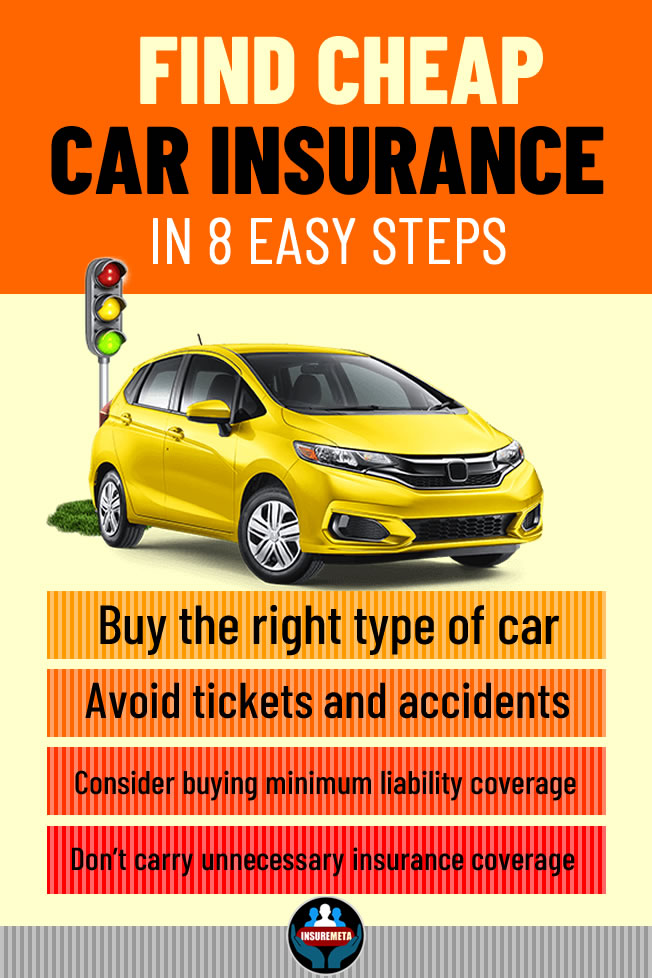 Buy the right type of car
If you're shopping for new wheels, your choice of an automobile can play a big role in getting lower insurance rates.
Cars that cost less to repair or replace generally receive lower premiums.
You'll also get better rates if your car has certain safety features. Insurance companies often give discounts for features such as anti-lock brakes, side airbags, and automatic safety belts.
Anti-collision technology is becoming popular in new vehicles; if your car is equipped with the new tech to ask your agent if any discounts are available.
Avoid tickets and accidents
Poor driving history can easily disqualify you from getting the cheapest car insurance. Insurers will check your record to see if you present a high level of risk. Speeding tickets, accidents, drunk driving citations – all can drive your insurance rates higher.
Drive sensibly and cautiously and you'll be on the way to cheap car insurance by avoiding surcharges and receiving a good driver discount. (See "How much will a ticket affect my insurance rates?")
Don't carry unnecessary insurance coverage
If you have an old beater, reduce your car insurance costs by dropping comprehensive and collision coverage.
When should you make this move toward cheaper auto insurance? Many experts say it's time to drop these coverages when the actual cash value you'd receive for your vehicle doesn't justify the insurance expense.
Take a look: Insurance.com auto insurance coverage calculator >
Have an extra car in the household you can use if yours is in the shop due to an auto accident?  If so, skip rental reimbursement coverage.
Also, don't pay extra for personal injury protection or medical payment insurance (if they aren't required by your state) if your family already has a good health insurance plan.
Consider buying just the state-required minimum liability coverage
One way to get the cheapest car insurance available is to buy "bare bones" coverage, which typically is liability insurance at the lowest legal limits required by your state to legally drive a car. If you cause an accident, it pays for others' property damage and medical bills and that's it.
It's important to remember that if you cause even a minor accident, minimum liability coverage probably won't be enough to pay for all the damage.
That means you'll be paying out of your own pocket. Still, if you want to save money and your car is old or you don't drive much, it is one path to lower rates.
Liability limits are usually written like this: 30/60/25. In this example, using Texas minimum requirements, the numbers show coverage that would pay:
medical expenses of up to $30,000 per person
medical expenses up to $60,000 per accident
up to $25,000 for property damage
Here are average annual rates for the cheapest car insurance coverage in every state, according to a rate analysis by Quadrant Information Systems for Insurance.com.